My Support; October 2010
Dear Martha,
Greetings all!
This week is National Mental Health Awareness Week, Tuesday, October 5 is the National Day of Prayer for the Mentally Ill and Thursday, October 7th is National Bipolar Awareness Day.
Please help us by educating just one person about bipolar disorder and mental illness. Our Education Committee would like you to
SAY IT FORWARD!

Sincerely,
Muffy Walker
P.S. Please contact me at anytime: muffwalk@aol.com
If you are in a crisis,
please call:
1-800-SUICIDE (784-2433)
or
1-800-273-TALK (8255)
Support Groups
To find a support group,
click here
Are you interested in being trained as a Support Group Facilitator? If so, please contact Muffy Walker;mwalker.ibpf@gmail.com.


SAY IT FORWARD
National Bipolar Awareness Day - October 7
In recognition of National Bipolar Awareness Day, the International Bipolar Foundation is introducing our own version of Pay it Forward:
Say it Forward!
Take the time today to educate one person about bipolar disorder. If every person reading this takes just 5 minutes to share with another, then thousands of people would have a better understanding of this serious, chronic illness. You may be the one to make the difference in someone's life - by decreasing stigma through education - life will become easier for those who struggle daily in isolation. Do a good deed for another - "Say it Forward" - and your words will carry and touch someone else in a way you can't imagine.
Here are 5 concepts to share:
Mental Illness is a disease like any other, it just happens to affect the brain. There is no difference between a mental illness and diabetes, heart disease, or kidney disease - they just affect different organs in the body. Bipolar disorder, also known as manic-depressive illness, is a brain disorder that causes unusual shifts in a person's mood, energy, and ability to function. Different from the normal ups and downs that everyone goes through, the symptoms of bipolar disorder are severe. They can result in damaged relationships, poor job or school performance, and even suicide.
Bipolar disorder is treatable. There is help! With proper medication, therapy, and lifestyle, people with bipolar disorder can lead happy, productive lives. Education and support is available, so that we can better understand and support our loved ones.
You know at least one person with bipolar disorder, but may not have any idea. It is estimated that 6 million Americans have bipolar disorder. The reality is that worldwide it is the 6th leading disability, causing missed work, damaged relationships, and isolation.
Bipolar disorder does affect children. Experts agree that bipolar disorder can and does occur in children, although the symptoms can be dramatically different from adults. It can be exceptionally hard on the entire family, especially if they do not reach out and seek help due to stigma.
Stigma doesn't just hurt, it kills. Many don't seek help or reach out to friends and family, choosing instead to suffer in silence. Because the brain is the affected organ the symptoms affect behavior, decision-making, and mood. This creates the idea that mental illness is a character flaw and that the person could act "normally" if they chose to do so. This discrimination helps perpetuate the tragedy that an estimated 1 in 5 people with bipolar disorder complete suicide.
So, please take just a few minutes today to educate one person about bipolar disorder. If that person does the same, and so on, think of how much change we can create when we
Say it Forward!!
To learn even more about bipolar disorder and what you can do to help, go to:
http://www.internationalbipolarfoundation.org/about-bipolar-disorder
To learn more about stigma, go to:
www.bringchange2mind.org
If you or anyone you know is contemplating suicide, call:
1(800)273-TALK (8255)
THE NATIONAL DAY OF PRAYER FOR MENTAL ILLNESS
AWARENESS RECOVERY AND UNDERSTANDING

The National Day of Prayer for Mental Illness Awareness Recovery and Understanding is Tuesday, October 5. This day of prayer was initiated by Angela Vickers, JD of NAMI Florida and Gunnar Christiansen, MD of NAMI California in 2004. It has had widespread support by individual congregations and National Faith Community Mental Illness Networks. The prayers and actions of both faith communities and secular organizations (e.g.,NAMI, NMHA, DBSA, OCF, ADAA, etc.) are needed to restore mental wellness in America. In seeking God's guidance, we can recommit ourselves to replacing misinformation, blame, fear and prejudice with truth and love in order to offer hope to all who are touched by mental illness.
You can download a resource with liturgies to use for the National Day of Prayer on the Home page of the Mental Health Ministries website. This resource is available in English and Spanish. Many faith communities have sponsored an interfaith candle lighting service using a liturgy written by Carole J. Wills that is included in this resource.
There is also a fact sheet, "What You Need to Know About Mental Illness," including facts that involve our faith communities.


Repligen Announces Completion Of Patient Enrollment In Phase 2b Clinical Trial
Of RG2417 For Bipolar Depression
http://mnt.to/a/3KCF
Repligen Corporation (Nasdaq: RGEN) reported that it has completed enrollment
of patients in its Phase 2b clinical trial of RG2417, an oral formulation of
uridine, in patients with bipolar depression.

Link Between Certain Psychiatric Disorders And Risky Sexual Behavior In Teens
http://mnt.to/a/3KwF
Although research has shown that teens with mental health disorders are more
likely to engage in high risk sexual behaviors, like unprotected sex, a new
study from the Bradley Hasbro Children's Research Center suggests there is an
additional risk associated with certain psychiatric diagnoses.
Genetic and environmental influences on focal brain density in bipolar disorder
Brain, 09/29/2010 Clinical Article
van der Schot AC et al. - The objective of this study was to investigate the contribution of genetic and environmental factors on grey and white matter brain densities in bipolar disorder. These results indicate that pathology in the frontal lobe, especially in parts of the superior longitudinal fasciculus, may be central to the genetic risk to develop bipolar disorder, while widespread grey matter abnormalities appear related to the illness itself.

We have a new Community Page on FaceBook.

Please join us on Facebook and "Like" us and help us spread the word.


IBPF Scientific Advisory Board member in the News!
David Miklowitz

Perlick DA, Miklowitz DJ, Lopez N, Chou J, Kalvin C, Adzhiashvili V, Aronson A.


Family-focused treatment for caregivers of patients with bipolar disorder.


Bipolar Disord 2010: 12: 627-637. © 2010 The Authors. Journal compilation © 2010 John Wiley & Sons

Objectives Family members of patients with bipolar disorder experience high rates of subjective and objective burden which place them at risk for adverse physical health and mental health outcomes. We present preliminary efficacy data from a novel variation of Family Focused Treatment that aimed to reduce symptoms of bipolar disorder by working with caregivers to enhance illness management skills and self-care.

Results Randomization to FFT HPI was associated with significant decreases in caregiver depressive symptoms and health risk behavior. Greater reductions in depressive symptoms among patients were also observed in the FFT HPI group. Reduction in patients' depression was partially mediated by reductions in caregivers' depression levels. Decreases in caregivers' depression were partially mediated by reductions in caregivers' levels of avoidance coping.

Conclusions Families coping with bipolar disorder may benefit from family interventions as a result of changes in the caregivers' ability to manage stress and regulate their moods, even when the patient is not available for treatment.



USC, Las Encinas Hospital to study on schizophrenia, bipolar disorder in younger, older adults




Schizophrenia and bipolar disorder affect 3% to 4% of the world's population, or about 222 million adults worldwide. In the United States, bipolar disorder affects about 5.7 million adult Americans 18 and older. Bipolar disorder, or manic depression, is a serious brain disorder that causes extreme shifts in mood, energy and functioning. People with the disorder experience episodes of mania and depression that can last from days to months. These symptoms usually begin in late adolescence, but can begin in early childhood or as late as a person's 40s or 50s. There is a strong genetic component related to bipolar disorder.

With funding from the National Institute of Mental Health, USC and Las Encinas are looking for people 18 years old or older who have bipolar disorder (manic depressive illness) and people who have a personal and family mental health history. Participants will be paid $50 for participating and they will be helping researchers with the difficult task of finding the causes of bipolar disorder. Participant confidentiality is guaranteed.

I work with Dr. Lisa Eyler at the
VA in San Diego and we are studying age related changes in the brain of patients with Bipolar I disorder.
BRAIN SCIENCE; We need BIPOLAR VOLUNTEERS

$160 for 7 hours

Inclusion Criteria:

Bipolar I disorder
30 to 79 years old
No other current mental disorder
On stable dose of meds for 6 weeks or more
1st episode at age 13-30
No uncontrolled diabetes or high blood pressure
Right-handed
Native English speaker

Study Includes:

Clinical questionnaires
Testing: memory, reading and learning tasks
fMRI: functional magnetic resonance imaging
One blood draw (less than 1 tbsp.)

Contact:
Alex Harmell at (858)552-8585 ext. 2774
aharmell@ucsd.edu

*Daytime, Evening, Weekend Appointments Available*


Did you realize that knowing how to measure your child's educational progress is more important than knowing the law? Is your child learning and making good progress in the special ed program? Is your child falling further behind the peer group?

In Part 4 of our Back to School Series you learned your child must receive meaningful educational benefit to receive FAPE. How can tell if your child is receiving educational benefit? If you compare your child's educational achievement test scores over time, you will know the answer to that question. http://www.wrightslaw.com/nltr/10/nl.0928.htm







Katie Drummond
The use of genomic sequencing to create personalized medical prescriptions, a process that's already making rapid strides, got a financial boost this week.
(IBPF's Scientific Advisory Board member Dr. John Kelsoe quoted!)



The National Institutes of Health (NIH) will invest $161.3 million over five years in its Pharmacogenetics Research Network (PGRN). The decade-old collaborative effort, which includes dozens of institutions, is working to master the relationship between an individual's genome and the person's response to different medications and treatment options.

"Thanks to breakthroughs in genome-sequencing technologies and our growing understanding of genetic variation among individuals, there has never been a better time to propel the field of pharmacogenomics," Dr. Francis Collins, director of the NIH, said in a press release.

And the NIH-sponsored research offers more than just the potential for personalized treatment. A more robust understanding of genetics would yield improved risk profiles for specific illnesses and conditions, as well as the ability to forecast risks for a couple's potential offspring.

Of course, it's all well and good to hype the prospect of new drug treatments custom-tailored to an individual's specific genes, but what are the real, concrete gains that have actually made their way to the doctor's office thanks to genomic science? Surge Desk has a few favorites:

Tailored Blood-Thinners
In 2007, the Food and Drug Administration capitalized on one pharmacogenetic finding and changed the labels on the blood-thinning drugs warfarin and carbamezepine. The reason? A genetic variation caused some patients to hemorrhage on the drugs, meaning that a reduced dose would protect them from that potentially fatal side effect.

"Today's approved labeling change is one step in our commitment to personalized medicine," FDA Commissioner Dr. Andrew von Eschenbach said at the time. "By using modern science to get the right drug in the right dose for the right patient, FDA will further enhance the safety and effectiveness of the medicines Americans depend on."

Customized Children's Cancer Treatments
At St. Jude Children's Research Hospital, doctors have been performing genetic tests on young leukemia patients for several years. Experts compare the genes of new patients to a database of former ones, in an effort to determine how they'll respond to select medications.

"Till now, there's been a one-size-fits-all approach. In most cases, an average dose of a medication is ordered, and then, if the patient suffers side effects, the dosage is adjusted," Dr. Mary Relling of St. Jude's told the New York Times in 2006. "With gene testing, we can customize the prescription."

Better Bipolar Fixes
It's not quite a reality yet, but a breakthrough is looming in more effective, reliable treatment for bipolar disorder, which afflicts nearly 6 million Americans.

A team of scientists, led by the University of California, San Diego, received $6.5 million of the new NIH funding dollars for their work on personalized bipolar-disorder pharmaceuticals.

In every area of medicine, patients respond differently to medicines, and some not at all," Dr. John Kelsoe of UC San Diego said, referring specifically to lithium -- which can be extremely effective or completely futile in the case of bipolar treatment. "If we can identify key genetic markers, then patients can receive the appropriate treatment sooner and get better faster."




Smart phone as patient tool: A mental health application
By John Moore

A project funded by the National Institute on Drug Abuse can turn a smart phone into a tool for aiding people with borderline personality disorder during vulnerable moments when therapists are not available.

The Dialectical Behavior Therapy (DBT) Field Coach is spearheaded by Behavioral Tech Research, a Seattle-based company that applies information technology and e-learning to mental health applications. The company received a grant from the institute to fund a prototype of the mobile application.

DBT helps patients learn skills for regulating their emotions through individual and group therapy. The DBT Field Coach aims to keep the principles readily at hand when a therapist isn't available.

"When you are in a crisis, the time to actually use DBT skills is in the moment in the field, in the context of real life," said Linda Dimeff, vice president and chief scientific officer at Behavioral Tech Research. "It's not always possible to contact the therapist after-hours."

Dimeff and Shireen Rizvi, assistant professor of psychology at the Graduate School of Applied and Professional Psychology at Rutgers University, are principal investigators on the project. They work in collaboration with the University of Washington and with David Carroll, an assistant professor of media design at Parsons the New School for Design.




Film peers into the mind of the mentally ill

Eyes Beyond based on filmmaker's bipolar experience

Film peers into the mind of the mentally ill. Daniel Reininghaus stars in Eyes Beyond - a film about his personal experience with bipolar disorder that he also wrote, directed, produced. It premieres Sept. 30 at Revival. Courtesy photo
Daniel Reininghaus's new film lifts the veil on mental illness.

The charismatic twentysomething wrote, directed, produced and is the lead actor in Eyes Beyond, an award-winning 28-minute independent social drama/horror/thriller based on the Etobicoke man's personal experience with bipolar disorder.

"Our movie is bigger than just a movie," Reininghaus said of the film he produced with Elizabeth Rizzuto, an Annex resident. "It's not just my experience anymore. It's a film with a purpose. Doing something with the film - raising mental health awareness and helping people heal - really matters to me."



Mental Health Stigma Still Prevalent

By JOHN M GROHOL PSYD

Two stories published in the past week by our news team gives me reason to be a little pessimistic about the gains we've made in terms of educating folks about mental health concerns.

The first article entitled, Depression Stigma Higher in Medical Students, examined mental health attitudes amongst medical students - you know, those folks who should be the most open-minded about these disorders that have significant roots in the brain. Of course, from the title of the article, you already know the study's findings.

In a survey of 505 medical students, researchers found that not only do the future doctors have higher rates of depression than in the general population (not surprising, given the stress of medical school), but they have something a little less expected - higher rates of stigma about depression too.

The results also revealed that 53.3 percent of medical students who reported high levels of depressive symptoms were worried that revealing their illness would be risky. Almost 62 percent of the same students said asking for help would mean the student's coping skills were inadequate.

The second article, published yesterday, suggests that Stigma for Mental Illness High, Possibly Worsening. How could this be? Educators and mental health advocates have had 15 years of reaching millions of people through the Internet, something never before available in the history of humankind.

The results of this study showed that while more people are understanding that there may be neurobiological causes of mental disorders, we're still a long way off from removing the prejudice and discrimination that accompanies a mental disorder diagnosis:

However, the results show that although believing in neurobiological causes for these disorders increased support for professional treatment, it did nothing to alleviate stigma. The results show that, in fact, the effect increased community rejection of the person described in the vignettes.

Pescosolido said the study provides real data for the first time on whether the "landscape" is changing for people with mental illness. The negative results support recent talk by influential institutions, including the Carter Center, about how a new approach is needed for the fight against stigma.

What's the big deal about stigma? So what if people are discriminated against because of their diagnosis?

Well, for one, the stigma keeps people away from seeking treatment. If you're afraid of how your family, friends or coworkers might react to a psychiatric diagnosis, you're far less motivated to actually seek out help to get the diagnosis (and the accompanying treatment) in the first place.

And if prejudice and ignorance weren't enough, people with such diagnoses still face discrimination - in employment, housing, medical care and social relationships.

As the article notes, this can negatively affect the quality of life for someone with depression, anxiety or bipolar disorder. And the people that love them.

It's hard to fight the stigma of mental illness when health professionals still act in a way that shows they are happy to carry on the misconceptions and mis-perceptions about people with depression, anxiety, bipolar disorder, PTSD, schizophrenia or some other mental disorder. And it's a bit depressing to see how a decade's worth of education, information and social networking online have seemingly just moved the needle only a tad in defeating the ignorance surrounding mental disorders.

Here's to hoping the next decade sees a far greater and more positive impact.

Dr. John Grohol is the CEO and founder of Psych Central. He has been writing about online behavior, mental health and psychology issues, and the intersection of technology and psychology since 1992.
Middle-Age Suicide On the Rise


By RICK NAUERT PHD Senior News Editor
Reviewed by John M. Grohol, Psy.D. on September 28, 2010
A new analysis shows a significant rise in suicide rates among middle-aged people.

Sociologists Ellen Idler of Emory and Julie Phillips of Rutgers University paint baby boomers as the driving force behind the new development.

Their report is found in the journal Public Health Reports.

"The findings are disturbing, because they're a reversal of a long-standing trend," Idler says.

The suicide rate for the U.S. population overall has been declining for decades, Idler notes. And people aged 40-59, in particular, have long had a moderate suicide rate.

The baby boomers, people born between 1945 and 1964, have broken that pattern. By 2000, most people aged 40 to 59 were baby boomers and the suicide rate started climbing steadily for these middle-age ranges.

The authors found significant increases of more than 2 percent per year for men, and more than 3 percent per year for women, from 1999 to 2005. (By 2005, all middle-aged people were baby boomers.)

The post-1999 increase has been particularly dramatic for those who are unmarried and those without a college degree, the analysis showed. For example, from 2000 to 2005, the suicide rate jumped nearly 30 percent for men and women aged 50 to 59 with some college but no degree. Middle-aged people with a college degree appeared largely protected from the trend.

The baby boomers also experienced higher suicide rates during their adolescence and young adulthood, doubling the rate for those age groups at the time. Their suicide rate then declined slightly and stabilized, before beginning to increase again in midlife.

"You might think that the higher rates in adolescence would lead to lower rates later because the most suicide prone people would be gone but that doesn't appear to be the case," Idler says.

"Clinical studies often show that knowing someone who committed suicide is considered a risk factor for later doing it yourself, and that may be one factor here. The high rates in adolescence could actually be contributing to the high rates in middle age."

Higher rates of substance abuse and the onset of chronic diseases are among other possible factors in the rising baby boomer suicide rate.

"As children, the baby boomers were the healthiest cohort that had ever lived, due to the availability of antibiotics and vaccines," Idler says.

"Chronic conditions could be more of a rude awakening for them in midlife than they were for earlier generations."

Traditionally, midlife has been considered a time when people are at their peak of social integration.

"We need to pay attention to this new increase in suicides, during a period of life previously thought to be stable and relatively protected from suicide, and in an age group now occupied by extraordinarily large numbers of people," Idler says.

Data for the study were drawn from the National Center for Health Statistics and the U.S. Census Bureau. Preliminary data from 2006 and 2007, the latest time that statistics are available, indicate that the upward pattern in midlife suicide is continuing, Idler says.

Source: Emory University
Bipolar Linked to Lower Socioeconomic Status
By SELENA CHAVIS

People with bipolar disorder are more likely to be single, disabled, and have a lower income than people without the disorder, according to new research.

This often lowers their socioeconomic status than it would normally be, despite people with bipolar disorder often having more college education than those without the disorder.

These are the findings of a recent study completed by a group of Norwegian researchers that investigated how educational achievement relates to function in bipolar patients and which clinical factors are associated with level of education.

In past studies, there has been conflicting evidence regarding the importance of educational level as it relates to social and occupational functioning in the disorder, researchers noted.

Helle Schoeyen of Stavanger University Hospital and the research team explained that "in the general population, there is a strong correlation between degree of education and social and occupational function in later life."

Findings of the current study revealed that a significantly higher percentage of the bipolar patients were single, had low income, or were disabled when compared to those without the disorder.

Data from 257 bipolar patients was drawn from the Norwegian Bipolar Research and Innovation Network. Patients in the identified bipolar groups were at least 18 years of age.

Of these, 69 percent had had the most serious form of bipolar disorder (Bipolar I), 26 percent had a less severe form of the disorder (Bipolar II), and 5 percent had a form of bipolar disorder that didn't fit into either of these two categories.

A geographically-matched reference sample of 56,540 people was also taken from the general population on levels of education, marital status, income, and disability benefits.

The researchers found no notable difference in education. The average length of education was the same for bipolar patients and the general population - 12.6 years.

When the analysis was narrowed to college education, findings revealed that 32 percent of bipolar patients had completed some level of college while the same was only true for 27 percent of the general population.

Rapid cycling and recurring depressive episodes were the only clinical characteristics associated with low educational level, researchers wrote.

With respect to income, 35 percent of bipolar patients were found to have an income below the 10th percentile, compared to 10 percent of those analyzed from the reference sample.

Bipolar patients were also more likely to be single (66 percent) compared to the general population sample (39 percent). They were also more likely to receive a disability pension (48 percent) than the general population sample (11.5 percent).

"The main finding of this study was that bipolar disorder patients had the same level of education but significantly lower social and occupational function than the general population," the team concluded.

They added that the present findings suggest that early identification and adequate follow-up treatment of bipolar throughout the life span could prevent a decline in social and occupational function.

A serious mental illness, bipolar disorder is characterized by extreme mood changes running the gamut from mania to depression. Risky behaviors are associated with bipolar disorder, and it often causes damage to relationships and careers, and even suicidal tendencies if not treated.

It is estimated that 5.7 million adults live with this disorder in the U.S., affecting all genders and ethnic groups.

The study can be found in the Journal of Affective Disorders



Despite resources, players reluctant to seek help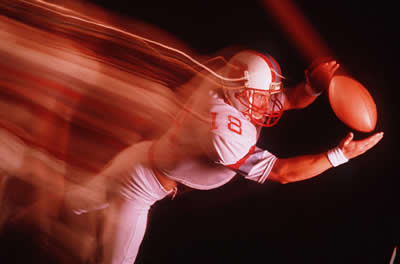 By Jason Cole, Yahoo! Sports
From the great blocks that once made Barret Robbins a Pro Bowler to the awful binges of alcohol and drugs that led to him being shot in the chest by police, agent Drew Pittman has had a front-row seat to the issues that have impacted his friend and client, and kept Robbins in a correctional or treatment facility for much of the past seven years.

After more than 15 years of sitting in that seat, Pittman has come to one intensely sad conclusion:

"The moments when Barret really sounds like he's at his best are when he's incarcerated," Pittman said of the currently jailed former lineman. "He has a schedule he has to live by, they tell him what to do and they make him take his meds."

Robbins, best known for disappearing just two days before the Oakland Raiders' appearance in Super Bowl XXXVII and diagnosed with bipolar disorder, is no longer some athlete fed by the Superman complex that lives deep inside so many. He's just a man, troubled and, in some respects, frail. Help isn't offered; it's required.

McKinley saw very little regular season action with the Broncos.
It's the kind of help that might have kept Denver Broncos wide receiver Kenny McKinley(notes) from apparently killing himself last week. Like so many others in the NFL, it appears McKinley didn't seek assistance.

"In all my time playing and in 10 years of working with players since I retired, I can't remember one guy, not one, who asked for help," said Robert Bailey, who spent 11 seasons with six different teams as a defensive back and special teams ace and now is a marketing agent working with Drew Rosenhaus.

In the case of McKinley, whose funeral was in suburban Atlanta on Monday, authorities believe he shot himself in the head because he was depressed after his second straight season-ending knee surgery.

In today's NFL, ample services are offered to help players cope with their issues - financial, family or otherwise. The league provides those under the umbrella of its player development program. It includes free counseling sessions and trained staff people who are around every team on a regular or semi-regular basis. The NFL Players Association hands out cards with the number of a helpline. There are life skills classes, both mandatory and voluntary, taught on a regular basis.

Yet the league is littered with tragic stories, including All-Pros like Robbins and unknowns such as McKinley. There were former first-round picks such as Alonzo Spellman and Dimitrius Underwood, who have struggled severely with bipolar disorder. Former quarterback Art Schlichter was addicted to gambling.

Some, such as Miami Dolphins running back Ricky Williams(notes) and former Pro Bowl punter Greg Montgomery, get help and eventually find a solution. Many more succumb to the intense pressure that exists in the NFL.

"For me, it wasn't hard to seek help, but I think the hardest part is it's difficult to be introspective in this sport," said Williams, who has openly discussed his bouts with anxiety and depression. "This environment isn't conducive to that. There are all these external factors coming at you and you think that's what's affecting you. ... I had a chance to really sit down and say, 'It's not external, it's me. There's something I need to fix.'

"The nature of the job is inhumane. It's the most stressful job I can think of. There are jobs that are more dangerous, but the pressure to perform every day is intense, so it's easy to project that the pressure comes from outside and that the problem isn't you. Imagine that you're at work every day and someone is following you around with a camera the whole time and then you watch yourself as other people critique what you're doing."

Or, in McKinley's case, the pressure that goes with not performing. In two seasons after being a fifth-round draft pick in 2009, McKinley had scarcely played because of knee injuries. On Saturday, the Broncos held a service for him and McKinley's father recalled how his son, when he was just five, had once made a business card out of an index card that read, "Kenny McKinley, football player."

That type of self-imposed pressure may lead to trouble down the line.

"So much of what we try to do is about developing an identity outside of being a football player," said Williams, who sought counseling during his rookie season with the New Orleans Saints. "If your identity [is] wrapped up in you being a football player and you're in a sport where so many guys are replaceable, what's going to happen when you don't have football?"

Even more, there is a gladiator mentality. To show weakness is antithetical.

"You don't ever want to show that chink in the armor, that you're somehow vulnerable," Bailey said.

Conversely, "I would say that we're no different than what exists in general society," said Adolpho Birch, the NFL vice president of player development. "People have a reticence to engaging in mental health therapy."

After helping Denver teammates and McKinley's family deal with the immediate issues, Birch said the league eventually will examine the situation in hopes of finding out what else could have been done. Over the past decade, the league has tried to change the perception of counseling. Having counselors around teams regularly was one step the league took so that players would be more comfortable with them.

"You want counselors to get to know players in a friendly way, not just as someone who is around when things are going bad," Birch said.

Even then, recognizing problems is difficult.

Underwood had an abbreviated tenure with the Vikings.

In 1999, Underwood was a first-round pick by the Minnesota Vikings who went AWOL during training camp. He was cut and later claimed on waivers by Miami. During the Dolphins' bye week in September 1999, Underwood tried to kill himself, putting a knife to his throat. Less than 18 months later, after being released by the Dolphins and signed by the Dallas Cowboys, Underwood again attempted to take his own life by walking in front of oncoming traffic on a busy South Florida roadway.

Underwood was tormented by visions of the apocalypse. He used to write notes discussing the end of the world on pieces of paper the size of postage stamps. When he was in a normal state, he could be engaging in conversation. He was funny and intelligent. He also exuded physical confidence and had extraordinary talent.

"You're talking about people who are told that they can overcome anything, do anything, if they work at it," said Pittman, whose partner, Craig Domann, represented Underwood. "It's not just in athletes. You see the same thing in lots of people: doctors, lawyers, bankers. Athletes think they're stronger than anyone else. Doctors think they're smarter."

Moreover, even suggesting that someone get help is difficult.

"I know there were guys I played with who needed help and I'm sure that, privately, the team pulled them aside and took care of them," Bailey said.

Williams said the problem runs deeper.

"It's hard for loved ones to say something because they're probably getting something from us and don't want to hurt that relationship. For teammates, it's hard to put a hand on somebody's shoulder and say, 'Hey, I think you need help,' " he said.

Even if the help is there.

"All the player would have to do is pick up a phone and call the number on the card the [union] gives out and say, 'I don't know, but something ain't right' and he'd get plenty of help," Pittman said. "But that means he'd have to admit to himself, 'You mean I'm not tough enough to handle this?' "

Many outside observers like to think players' financial compensation makes up for all the pressures they endure. Sometimes, however, a lot of money for someone in their 20s has just the opposite effect. It adds to already enormous pressure.

Williams' journey of self-discovery and help has included suspensions for violating the league's substance abuse policy.

"I think when I really understood it is when I was talking to one of my players and we talked about how this is probably the only profession where you walk into the building and you say hi to somebody who, once they walk away and go to their office, is going to look at film trying to find somebody who is better than you," Pittman said. "Teams spend millions of dollars every year looking for somebody who is better than you. Could you imagine going to work like that every day, thinking that somebody you worked with was doing nothing but trying to replace you?"

That's to say nothing of the usual pressures that go with life, such as the player Pittman represents whom he has had trouble keeping track of lately.

Pittman won't identify the player, but describes him as one of the many fringe players who get churned around the league. Aside from the tension of keeping a job that could be lost simply with a missed tackle on a punt return, the player recently had a child with a girlfriend who has proved to be flighty.

The pressure proved to be too much for the player, who asked for his release in the offseason. Pittman didn't find out about it until he called the team. The player didn't return calls for weeks.

"He's dealing with a lot. He thought that the best way to raise his child was to be an NFL player and then he discovered it was too hard to do that, to try to hang onto that dream," said Pittman, a touch of concern evident in his voice.

There's a reason for that. Just as before, Pittman hasn't heard from the player in a while.

And that's cause for stress.



Dear Family & Friends:

After his long battle with bipolar disorder, my family lost a son, brother, uncle, nephew and friend in May of 2010 to suicide. We are all forever changed by this tragic event. Our hope is that through education and awareness, those suffering with a mental illness will be prompted to seek help. This year, we will be participating in the Out of the Darkness Community walk for the American Foundation for Suicide Prevention. Funds from this event will fund education and research programs for those who suffer from mental disorders, who have lost a loved one to suicide. Last year, the community walks raised over $4.2 million. This year, our goal is $5 million. Please visit www.outofthedarkness.org and register to walk with us and our team, "In Memory of Stephen (BamBam) Santoro". If you are unable to join, please consider donating to help us reach our goal. You may either donate online, or you may send a check (made payable to AFSP) to:

AFSP, 120 Wall Street, 22nd Floor, New York, NY 10005. Please write our names in the memo line of all checks.

Thank you so much for your support!

With much love,

Nancy & Carm

Please join us on this very special day... for a chance to make a real difference!

We'll be walking in the

San Diego Walk

walk on

October 16, 2010



Bipolar Disorder Not Influenced by Postpartum Mood Episodes

By SELENA CHAVIS


Findings of a recent Spanish study suggest that postpartum mood episodes - the changing moods new mothers may encounter after they've given birth - have no influence on prognosis or the course of bipolar disorder in women.

Due to lack of previous study comparing the outcomes of female bipolar patients with and without a lifetime history of postpartum mood episodes (PMEs), Spanish researchers set out to conduct a prospective clinical study that would uncover any relationship between the two illnesses.

Led by Eduard Vieta of the University Clinic Hospital of Barcelona, the research team noted that "postpartum mood symptoms show well-defined clinical features and appear to be mainly influenced by genetic predisposition and family-related factors and not as much by psychosocial factors."

Postpartum mood disorders are mental health illnesses that occur during the first year after giving birth. They can range from what's commonly referred to as mild baby blues to the more severe forms of postpartum depression and postpartum psychosis.

As many as 80 percent of new mothers may experience baby blues, while postpartum depression affects 25 percent, and postpartum psychosis may be seen in one to two mothers out of every 1,000.

Researchers assessed data on 200 women diagnosed with bipolar disorder, identifying 43 who had a history of PMEs. Postpartum mood episodes, or PMEs, were defined as an occurrence of a mood episode within four weeks after giving birth.

The sample of women analyzed was drawn from enrollment in the Bipolar Disorders Program at the University Clinic Hospital of Barcelona for at least 10 years. Of those not identified with the disorder, 137 actually did not present with the diagnosis while the remaining 20 were eliminated due to disagreement between the two independent psychiatrists as to their history of mood episodes.

No significant differences were recorded between those presenting with a history of PMEs and those who did not when assessing such clinical features as rapid cycling, Axis I comorbidity and Axis II comorbidity.

Family history of mental illness and specifically, affective disorder, also proved an insignificant comparison, as percentages were similar between those with history and those without. Specifically, the percentage of bipolar patients with previous family history of affective disorder was 65.1 percent compared to 62.9 percent for those without the illness.

Both groups also presented with similar socio-economic factors and functionality.

Researchers did note one difference in that women with a history of PMEs suffered a longer duration of bipolar illness-20.16 year compared to 15.02 years.

The current study was limited by its lack of ability to take account other factors that can influence the outcome of a postpartum episode such as obstetric complications and social support before delivery. Similarly, dimensional and qualitative aspects of bipolar disorder were not included in the analysis.

Based on the findings, the team said that "the role of postpartum onset as a DSM course modifier should be reconsidered, as it seems to have no impact on prognosis or functioning."

A serious mental illness, bipolar disorder is characterized by extreme mood changes running the gamut from mania to depression. Risky behaviors are associated with bipolar disorder, and it often causes damage to relationships and careers, and even suicidal tendencies if not treated.

It is estimated that 5.7 million adults live with this disorder in the U.S., affecting all genders and ethnic groups.

The study can be found in the Journal of Affective Disorders.

Source: Journal of Affective Disorders
Respite worker looking for hours during the week
My name is Jessica. I am a Preschool Special Education Teacher with the Carlsbad School District. Currently work for Accredited Nursing Services through the San Diego Regional Center, which provides respite services for families with children with special needs. I am looking for a consistent, weekly appointment with a family in North County. Ideally, perhaps a 3-4 hour shift. I can provide references, as well as CPR/First Aid certification.
Please let me know if you are interested!
Jessica: jbkrager@gmail.com,

jbkrager@gmail.com,

DBSA & NAMI share their news:



*DBSA

:
The San Diego Committee on Employment of People with Disabilities holds

"Jobtoberfest"

, San Diego's Largest Job Fair for People with Disabilities in October every year at the Balboa Park Club in Balboa
Park. The website for info is www.sdcepd.com. There are workshops to attend and many employers on site and it's all free.

NAMI

:


Hearts & Minds

: NAMI Highlights Meditation, Yoga And Other "Mindfulness" Practices For Mental Illness
The National Alliance on Mental Illness (NAMI) is providing a new dimension to its Hearts & Minds initiative, an educational program that promotes "mind and body" health practices for individuals who live with mental illness.
A new "Mindfulness" section on NAMI's Hearts and Minds website includes a 10-minute video of guided mediation, along with information about other holistic methods to complement medication and therapy and help a person to gain greater control over the recovery process. http://www.medicalnewstoday.com/articles/199766.php
NAMI San Diego Free Education & Advocacy Meeting, Thursday, October 7, 2010 -6:30 p.m.


"How Far We've Come, and Where We're Going

Schedule:

6:30 p.m. Meet the Doctors - Join us for a discussion group with psychiatrists Steve Koh, MD, MPH, MBA Chief Resident SD VA Hospital, University of California San Diego, Dept. of Psychiatry and Kristine Munoz, MD, with the Naval Medical Center in San Diego. Ask the questions you've wanted to ask a psychiatrist. Learn from other members of the group, too.

7:00 p.m. NAMI San Diego Panel "How Far We've Come, and Where We're Going" - Come listen to the first hand experiences of some of the early members of NAMI San Diego and see how far we have come in 31 years. Emy Alhambra, Joan Williams and Mary Meisner are amongst the several members that struggled with getting mental health services for their family members and loved ones. They will be sharing about what finding mental health services were like before NAMI San Diego was created. Building on the work that so many did in the early years, and seeing how far the NAMI San Diego community has come is important in our further growth as a community of mental health advocates. Listening to the stories and first hand accounts of those that havealready been "in our shoes" help us to solidify the path and strengthen the mission of NAMI San Diego.

8:00 p.m. Tea and Comfort

Location:University Christian Church Friendship Hall 3900 Cleveland Ave.San Diego, California




About the International Bipolar Foundation



International Bipolar Foundation is a not for profit organization based in San Diego whose mission is to eliminate Bipolar Disorder through the advancement of research; to provide and enhance care and support services for all affected; and to erase associated stigma through public education.


Visit us online for more information: www.internationalbipolarfoundation.org

A Word About Funding
Please note that International Bipolar Foundation does not represent any pharmaceutical company or give any speeches for a pharmaceutical company nor does our site receive advertising dollars from any company.